About Me
Welcome! Thanks for visiting!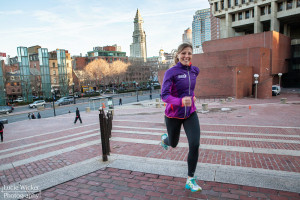 Run Along is a blog about running. If someone had asked me in high school, I would have laughed if told that when I was older I would like a) running and b) writing. But here I am, writing about running.
I grew up playing a lot of sports, but always dreaded running, unless it was to chase after a ball or get to a base. Then, in 2000 I moved to Boston, and after my first run along the Charles River, I was hooked.
In 2002, I ran my first Marathon and in 2004, I ran my first Boston Marathon as a charity runner. I ran Boston again in 2005 and in 2006 ran the marathon for the Alzheimer's Association. I have run 5 Bostons since then, and a few races in between, as a part of the Run to End Alzheimer's team, raising over $42,000 in that time.
I am a runner, a writer, a volunteer and a fundraiser.  And from 9-5, I'm an obesity researcher. It's not a coincidence that my job revolves around trying to get families to eat better and be more active.
I started blogging in 2008 as a way to inform friends and family about my training for that year's Boston Marathon. Those weekly posts eventually led to a role as a correspondent for Boston.com's Marathon Blog and then to start the Boston.com Community Voices blog Run Along from July 2013-May 2014. I continue to develop Run Along here on  chrissyhoran.com, and write about running, Boston and related topics.
I hope you will run along with me.